magnificat
Two sisters know
what priests and seers 
could not discern.
In Galilean hills 
far from Temple Mount 
and palace rule...
God's afoot 
when prophet babe 
kicks advent news.
"Blessed are you!" 
is the first word 
out her mouth - 
just as it would be 
for that heavenly voice 
speaking hope
to Jordan 
and to hungry people 
awaiting God on mount or plain 
(does it really matter if you read 
Matthew or Luke?).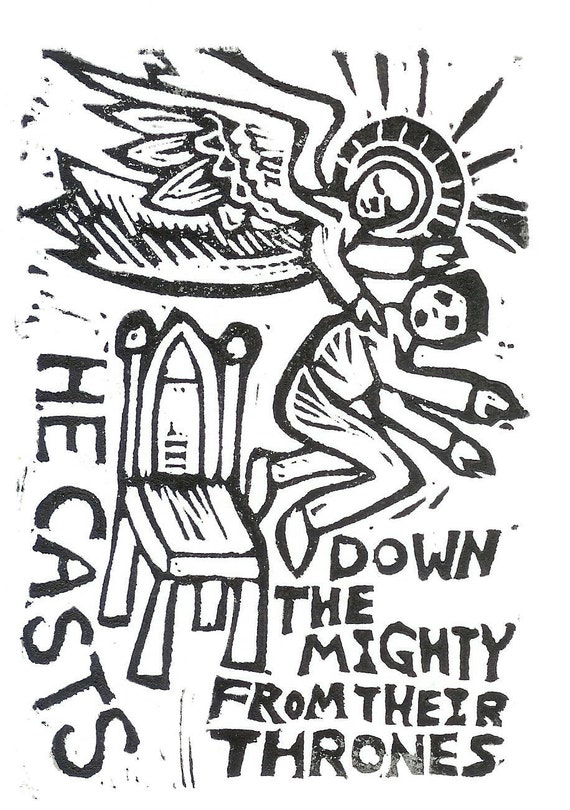 Must the powerful tumble 
for the lowly to be magnified?
Yes, saith the Lord, 
who is in the business 
of exaltation 
without exploitation 
so that even 
a knocked-up peasant girl 
knows favor. 
Her little babe, 
born to trouble 
(so Psalmist sang) 
would drink deep of her hope, 
gulp down God's promise,
choke on power's cruel judgment - 
and still he rose.
Rose above the sickness 
by touching lepers.
Rose above sin 
by dining with sinners 
(the wine was just icing on that cake).
Rose above Rome and above Caesar 
and above his murderers 
simply by forgiving, 
and praying for deliverance. 
Not his. Theirs.
For he listened 
to his mama, 
who remembered 
that for all God's turn the world around 
lift up the lowly promises, 
he is still the Father 
of mercy.
November 21, 2014
"He Casts Down the Mighty From Their Thrones," linocut by SarahDFuller, available at
etsy.com
.